THE GREEN COMET COMETH: From remote Portal, Arizona, astrophotographer Jack Newton reports: "Comet Lulin has brightened considerably and is now an easy naked eye object in dark, country skies." He photographed it using a Meade 14″ HyperStar and sends this 16-minute exposure: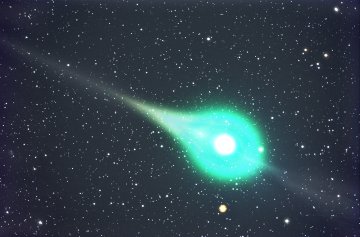 Comet Lulin's vivid green atmosphere is about three times as wide as the planet Jupiter, and its dusty tail stretches more than 1.5 million km into space. The comet is so big that "it no longer completely fits in my telescope's field of view," says Newton.
On Feb. 24th, Comet Lulin will swing past Earth only 38 million miles away. Got clouds? No problem. The Coca-Cola Space Science Center in Columbus, Georgia, plans to webcast the encounter. "We're going to transmit the view through our observatory's 16-inch Schmidt-Cassegrain telescope," says astronomy professor Rosa Williams of Columbus State University. "The webcast begins at 11:30 EST on Monday, Feb. 23rd and will continue until 5 a.m. EST on Tuesday the 24th." Tune in!
——————————-
———